September 28, 2020 - October 4, 2020




8:00 am - 7:00 pm
Sorcery & Spectacle: Star-Studded Virtual Gala
The main event is free to stream but all celebrity zoom room admissions require a ticket. Tickets are on sale now.
Otherworld Theatre's Virtual Celestial Gala, hosted by What We Do In The Shadows star Harvey Guillén w/ after party DJ'ed by Kristian Nairn!
About this Event
Featuring special guests:
Doug Cockle (The Witcher) • Austin Grossman (Author/Video Game Designer, Dishonored) • Sam Koji Hale (Director/Filmmaker) • Peter Macon (The Orville) • Gates McFadden (Star Trek: The Next Generation) • Moiya McTier (Astronomer, Astrophysicist, Folklorist) • Arvid Nagarajan and Andy Sadhwani (Rocket Scientists/Jet Propulsion Engineers) • Kristian Nairn (Game of Thrones) • James Sie (Avatar: The Last Airbender) • Marina Sirtis (Star Trek: The Next Generation) • T.J. Storm (Tron: Legacy, Captain America: Civil War, Deadpool) • Charles Yu (Writer, Westworld)
Otherworld Theatre Company is proud to announce its 8th Annual Celestial Gala: Sorcery & Spectacle hosted by Harvey Guillén! This fully virtual event will bring together celebrities, scientists, and patrons from across the geek culture spectrum to create an unforgettable interactive event, and save genre theatre in the process.
About Otherworld:
Otherworld Theatre Company was founded on the belief that each and every one of us should have the opportunity to answer the call to adventure. Our mission is to celebrate the depth of human imagination, and to speak to the spirit of the dreamers among us. Otherworld is proud to operate the only live performance venue in the world dedicated to the genres of Science Fiction and Fantasy, and we hope you will join us in celebrating eight years of groundbreaking productions.
We never expected to find ourselves in a virtual world for our eighth season, but as we've always done, we took on this challenge and created theatre for this new reality. We have brought full plays, dramas, comedies, improv, kids camps, and our immersive theatrical live-action role playing games into the digital space, and now we are inviting you to join us for Sorcery & Spectacle: The 8th Annual Celestial Gala. This event will highlight our Digital Performance Platform, and lead the way to the rebirth of Otherworld and all live theatre as we emerge on the other side of this crisis.
Join us. Answer the call to adventure!
Here's how it will work:
Timeline
Monday, September 28:
Silent Auction opens.
Saturday, October 3:
6:00 – 7:00pm CDT: Celebrity table experience.
7:00 – 7:30pm CDT: Pre-Show.
7:30 – 8:30pm CDT: Gala Program hosted by Harvey Guillén.
8:45 – 10:00pm CDT: After Party DJ'ed by Kristian Nairn.
Sunday, October 4:
Silent auction closes at 7:00pm CDT.
Ticket Options:
Patron – You can watch the gala program for free! The pre-show starts at 7:00pm CDT and the program starts at 7:30. You'll receive a custom link when you reserve your spot. You will also be able to participate in our silent auction with many one-of-a-kind items from our celebrity guests!
Gala Box With After Party – You will have access to everything above, plus you will receive a custom made loot-box containing everything you need to join in on the fun from afar (box contents listed below). PLUS, you will have access to the exclusive after party DJ'ed by Kristian Nairn AKA Hodor from Game of Thrones! Did you know he is also a world famous DJ?!
Virtual Celebrity Table – You will get everything above, PLUS a seat at a virtual "table" of up to 10 people where you will be able to have an hour long conversation with one of our celebrity or scientist guests! You will be able to buy one seat, or multiple seats, even all 10 if you want to want to invite your friends and family! All virtual tables will be accessed through Zoom. The conversations begin at 6:00pm CDT. Note* that each celebrity has 10 spots only, so act fast! We cannot add spots!
What's in the Gala Box?
The Gala Boxes are hand made by our ensemble and will be hand delivered or shipped to you. *Due to mail delays, if you are outside of the Chicagoland area, be sure to place your order as soon as possible! There is an extra fee for international shipping.
The box contains:
Soft Gala T-Shirt.
Handmade wand.
Phoenix Tear Candle of amber & vanilla.
Potion bottles filled with magical teas.
Handmade artisan soap.
A custom signed art print by artist Dawna Chung.
A collectible soft enamel pin by Sweet Camie Jean.
And much more!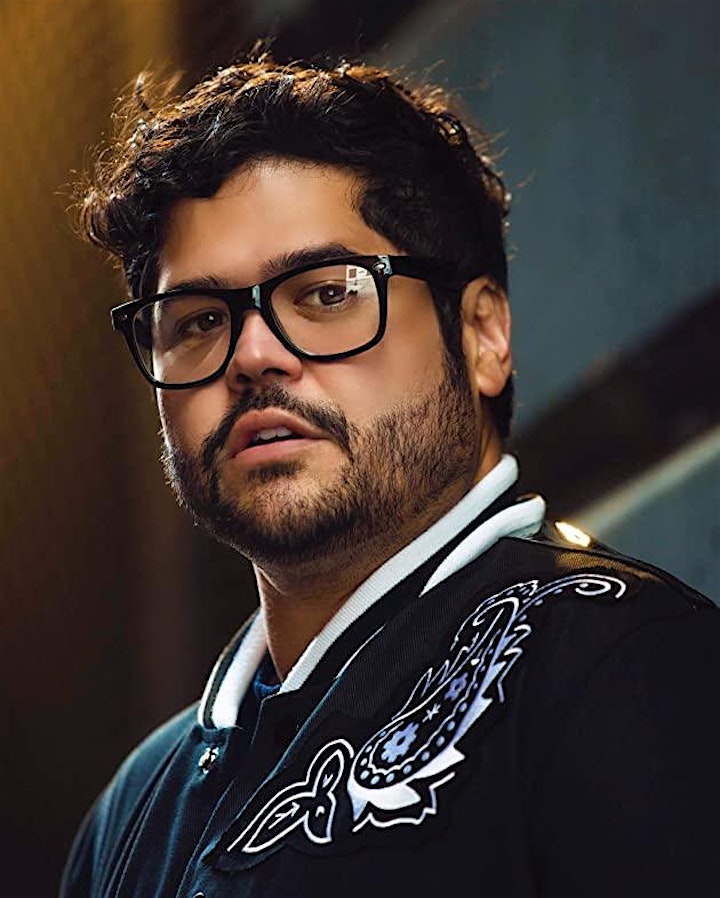 About the host:
Harvey Guillén stars as the human familiar, Guillermo, in the new FX series dark comedy WHAT WE DO IN THE SHADOWS produced by Scott Rudin. He has been a series regular on MTV'S EYE CANDY and ABC Family's HUGE. He recently completed guest starring roles on the Apple series LITTLE AMERICA and on HBO's ROOM 104, along with a recurring role on Season 3 of THE GOOD PLACE for NBC.
He is the recipient of a GLAAD award for his work on RAISING HOPE.
On the film side, he is best known for his supporting role alongside Vince Vaughn, Rose Byrne and Owen Wilson in the Fox film THE INTERNSHIP. He recently completed the independent films entitled TRUTH and STATUS UPDATE.
Harvey will also be hosting a celebrity table!
Celebrity Table Hosts:
More table hosts to be announced soon!
Doug Cockle
Doug is an American actor and director. He graduated from Pennsylvania State University and was a lecturer at Arts University Bournemouth. Cockle is known for his voice-over roles in video games, most notably of Geralt of Rivia in The Witcher series. He was nominated for a Game Award for Best Performance and won Golden Joystick Award Best Gaming Performance for his portrayal of Geralt in The Witcher 3: Wild Hunt. He has also appeared in several films and television series' including Captain America: The First Avenger and Band of Brothers.
Austin Grossman
Austin is an American author and video game designer. He has contributed to The New York Times and has written for a number of video games, most notably Deus Ex and Dishonored. He is the author of the novel Soon I Will Be Invincible, which was published by Pantheon Books in 2007 and adapted into a stage musical by Lifeline Theatre in Chicago in 2015. His second book, entitled YOU, debuted in April 2013. His third novel, Crooked, came out in July 2015.
Sam Koji Hale
Sam is an award-winning director, animator and puppeteer. Sam made his first short film for Jim Henson's daughter Heather called Yamasong. Seven years later he made the feature Yamasong: March of Hollows, produced by Dark Dunes Productions. Sam has produced numerous puppet short films including award-winners Narrative of Victor Karloch, Hitori and Lessons Learned. He continues to produce films for Heather's Handmade Puppet Dreams series with their new distribution partner at Jim Henson Company, bringing these films to online audiences. Sam's other credits include art director for Cartoon Network's Annoying Orange, Disney Jr's Bite-Sized Adventures of Sam Sandwich (lead VFX artist) and Disney's Team Smithereen (associate producer).
Peter Macon
Peter is an Emmy-winning American actor. He acted for nearly 30 years at Twin Cities theaters including Penumbra, Illusion and Children's Theatre Company, and starred in the title role of Othello at the Guthrie Theater, as well as productions of the play in Dublin, Colorado, and Oregon. Macon has appeared in episodes of Nash Bridges, Law & Order, Without a Trace, Supernatural, The Shield, Dexter, Bosch, SEAL Team, and Shameless. He is best known for his role as Bortus in the Seth MacFarlane Sci-Fi comedy The Orville.
Gates McFadden
Gates is an actress, choreographer, director and teacher. Acting credits include 6 years and four films portraying Dr. Beverly Crusher on Star Trek: The Next Generation. Other films include Taking Care of Business, The Hunt for Red October, Muppets Take Manhattan, Crowned and Dangerous, short film Mattresside, and Follow the Numbers a 2016 music video by Onsen.
Check out Gates's episode on Otherworld's Gateways podcast!
Moiya McTier
Moiya is a graduate Harvard University, where she became the school's first ever student to study both astrophysics and folklore & mythology. After graduating, she decided to pursue her PhD in astronomy at Columbia University. She's written a science fiction novel, given more than 100 talks about science and equity & inclusion, been interviewed on television and podcasts, and designed an exhibit for the New York Hall of Science.
Arvind Nagarajan and Andy Sadhwani
Arvind is currently a Liquid Propulsion Engineer at AVIO, a GE Aviation company based in Italy. He has previously worked for Virgin Orbit and Virgin Galactic as a Principal Engineer and he worked for SpaceX as a propulsion engineer.
Andy has been a Principal Propulsion Engineer at SpaceX for over 13 years, and previously worked as an Academic Researcher at NASA. He has worked as a technical consultant on technical manual and science fiction scripts, has produced multiple feature length films, and was the technical consultant for the Disney film Cosmic 3000 and Generation Mars.
Kristian Nairn
Kristian is best known for his role as "Hodor" on HBO's hit fantasy juggernaut Game of Thrones. He is also a progressive house/trance DJ, and used to be the resident DJ of Kremlin, a gay club in Belfast. Since Game of Thrones began, Nairn has toured as DJ with "Rave of Thrones" using musical themes and costumes from the television series. Nairn is an accomplished guitarist. He got the opportunity to play backstage with Megadeth during the Hellfest Open Air Festival in Clisson, France during June 2018.
James Sie
James is an American actor, prolific voice actor, and author. He was the voice of an animated Jackie Chan and several other characters in Jackie Chan Adventures, Master Monkey in Kung Fu Panda: Legends of Awesomeness. His extensive voice over resume includes is role as The Cabbage Merchant in Avatar: The Last Airbender. His debut novel, Still Life Las Vegas, was published in August 2015.
Marina Sirtis
Marina is a prolific film and television actress best know for portraying Counselor Deanna Troi on Star Trek: The Next Generation, as well as the four TNG films, Star Trek: Voyager, Star Trek: Enterprise, and Star Trek: Picard. She also voiced the part of Demona in Gargoyles, and played Matriarch Benezia in the hit video game franchise Mass Effect.
T.J. Storm
T.J. is an American actor, voice actor, stuntman, dancer and martial artist. His most notable motion-capture performances include Tron: Legacy, Captain America: Civil War, Deadpool, and as Godzilla in Legendary Entertainment's MonsterVerse series. He has starred in several major projects including Punisher: War Zone, Green Lantern, Avatar, Jack the Giant Slayer and The Martial Arts Kid. He has also provided voice acting and motion capture to a variety of video games Including Resident Evil 5 and 6.
Charles Yu
Charles is the author of four books, including his latest novel, Interior Chinatown. He has received the National Book Foundation's 5 Under 35 Award and has been nominated for two Writers Guild of America Awards for his work on the HBO series, Westworld. He has also written for shows on FX, AMC and Adult Swim. His fiction and nonfiction have appeared in The New Yorker, The New York Times Magazine, The Atlantic and Wired, among other publications.